COVID19 Information: Belize is Open –  What You Need to know
Peace of Mind – All Crew Tested
We know that health and safety are at the forefront of the decision-making process on whether to travel and where to go in 2022. On our yacht charters, the captain and first mate will be tested prior to your arrival and will be isolated before the charter departs for your peace of mind. While aboard the boat, they perform daily temperature checks, wear masks, and sanitize regularly. Our private guides and drivers wear masks and have daily temperature checks, and vehicles are sanitized before and after use. You can see more about our updated policies and procedures further down this page.
Please always refer to the latest updates and information from the Belize Tourism Board on this link.
Latest Travel Update: New US Testing Requirements for Entry Into the US
In light of the new entry requirements to the USA requiring all visitors, residents, and US citizens to show proof of a negative Covid19 test (PCR or Antigen test) within 24 hours of their departure from Belize, we wanted to provide an update and further information.
In response to this new requirement, testing sites are available at medical facilities country-wide; however, our crew and operations will coordinate with Belize Diagnostic Centre, which offers a CDC-compliant testing concierge service authorized by the Belize Ministry of Health and Wellness. Depending on your itinerary, we can arrange testing in Caye Caulker, San Pedro, Placencia, Hopkins, or Belize City.
Testing will be prearranged by us and test results will be available onsite within 30 minutes. The cost is US$75 per person based on 4 or more people or US$100 for 1 to 3 people.
Those who have tested positive within the past 3 months before travel need to bring proof that they have recovered from the virus and are cleared to travel by a licensed healthcare provider.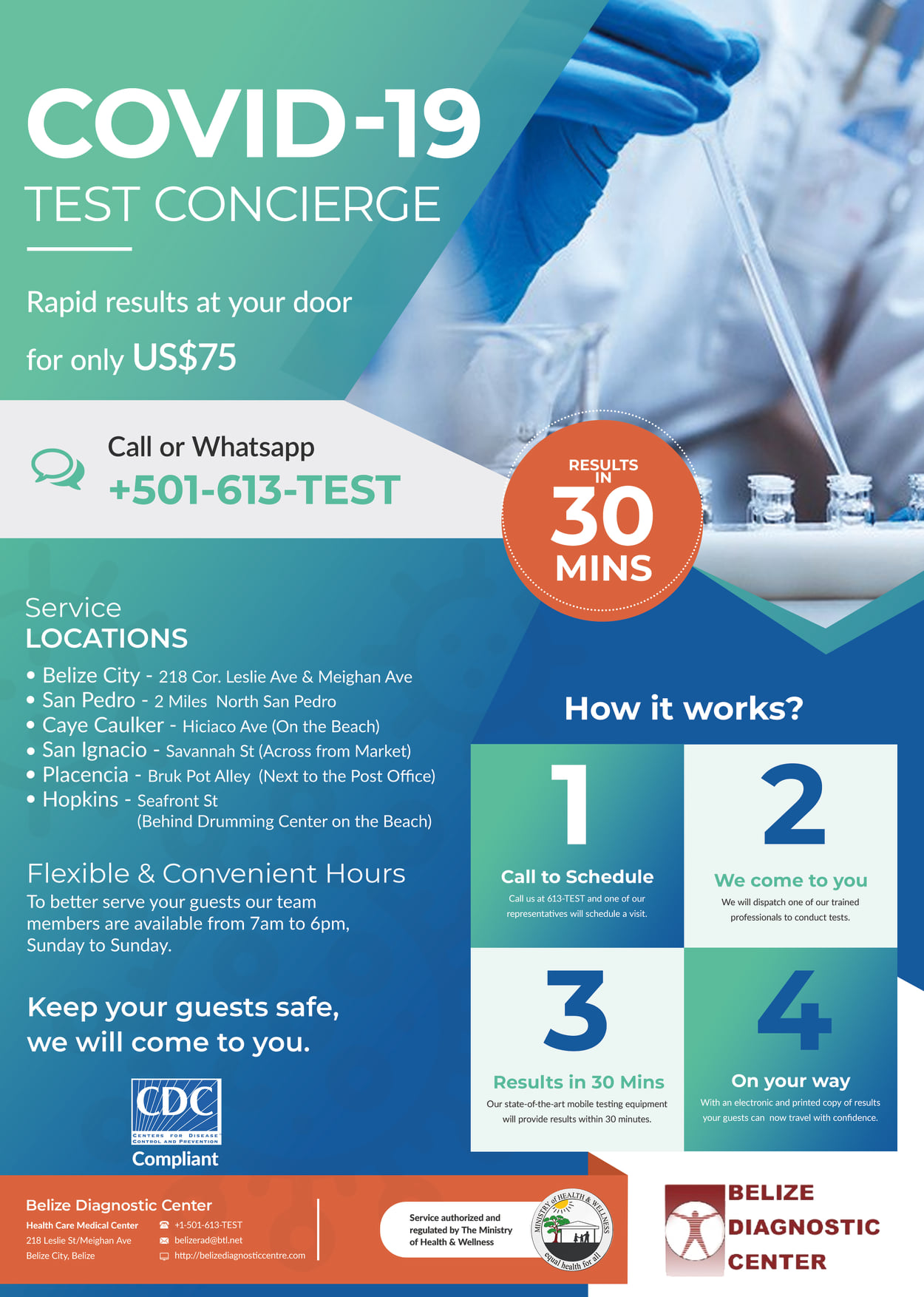 In the event that a guest tests positive and is unable to travel home, we will work closely with guests and the Ministry of Health & Wellness to organize the best possible services and care on a case-by-case basis. During these challenging times for travelers and tourism businesses, our commitment is to ensure the best travel experience possible.
Covid Information in Belize
Belize's international airport has been open since October 1st and we have been safely welcoming guests since then. We have achieved the Tourism "Gold Standard Certification of Recognition" which ensures hotels are rigorously following the 9 Step recognition program with enhanced protocols with regards to cleaning, sanitizing, management of inventory, distancing of staff,  regular monitoring, and reporting.
Our top priority is to ensure the health, safety, and well-being of all guests, our employees, and the wider communities where we live and work.
Our commitment to keeping our Guests and Employees Safe:
Industry Leading guest and public area cleaning practices based on CDC and EPA guidelines include Electrostatic sprayers which distribute a CDC-approved disinfectant before and after each charter, and all high-touch surfaces wiped down to eliminate bacteria.
Hand sanitizers, disinfectant wipes, and multiple sanitizing stations throughout our property and charter vessels for your safety and convenience.
Social distancing measures for employees and guests.
Personal protection equipment utilized by employees and guests.
Here's what you need to know about traveling to Belize.
Before Your Visit
All visitors are required to apply for Belize Travel Health Insurance – mandatory insurance that helps protect travelers against incurred medical and non-medical expenses if they test positive for COVID-19 during their stay in Belize.

The cost of the policy is

US$18

and provides coverage for up to

US$50,000

in medical expenses related to the treatment of COVID-19 for a period of 21 days. This insurance plan will come online under the country's public health regulations and provide cover for lodging expenses due to quarantine up to

US$2,000

(max

US$300

/day). Travelers will also be covered for emergency assistance services such as air evacuation and emergency expenses related to pre-existing conditions. Furthermore, it covers trip cancellations and expenses incurred by COVID-19 positive travelers for extended stays.

You are required to present a negative Covid-19 PCR test taken within 96 hours of travel or a negative result from any approved Antigen Rapid Test taken within 48hours of travel. If no test is presented, a COVID-19 test will be administered at the airport for a fee of US$50 per passenger. Children under the age of 5 years will not be required to present a negative test.
If you have been vaccinated, testing is still required.
On Arrival in Belize:
You will disembark the plane – wearing a face mask – and proceed to health screening.
If you brought along your negative COVID-19 test, you will proceed to the 'fast track' lane for Immigration & Customs processing. Depending on your health screening, you may be randomly selected for secondary testing.
If you were unable to bring the results of a PCR or rapid test, you must proceed to the testing area where you'll be required to take a COVID rapid test. Testing is at the passengers' expense and costs US$50.
Proceed to Immigration and Customs, and then exit the airport via the Safe Corridor using our approved ground transportation. You will receive your test results at your Gold Standard hotel via the Ministry of Health.
A positive test result will require you to quarantine at your hotel until the Ministry of Health provides clearance.
During your Stay in Belize:
While in-country face masks are mandatory in all public spaces, you're advised to practice social distancing and proper hand hygiene, to protect yourself and others you come in contact with.
Outdoor restaurants and bars are open and operating at 50% capacity. You are allowed to move around freely, but must wear a mask and ensure social distancing.
We want you to see and do as much of the local activities in our beautiful country, during your visit. Guests will only be allowed to explore with pre-arranged guided tours with an approved Gold Standard Tour Operator. Please let us know what you're interested in doing and seeing while in-country and we can arrange this for you.
At BSV 
We have achieved our Gold Standard Certificate of Recognition and have implemented enhanced sanitary protocols and training so our crew continues delivering the 5-star service we are known for while ensuring everyone's safety.
We are very mindful of the dynamic situation surrounding COVID-19, health and safety concerns, and the need to remain flexible for all. Below are our policies, procedures & steps to welcome you back:
1. Health and safety pre-departure, onboard & post-departure
Safety is our first priority, as it always should be. We have made modifications to our already stringent sanitizing and cleaning procedures in line with the Gold Standard Certification guidelines, the guidance of global experts and authorities including the WHO and CDC. We have a detailed document available to you at your request, here is a summary of our procedures:
Pre Departure
Crew testing – all crew will be tested prior to departure and will isolate before the charter departs.
Private transfers – guests are required to sanitize hands before entering the vehicle (sanitizer will be available) and require that you travel this short distance with a protective face mask. Our driver will handle luggage with gloves. Our vehicle is thoroughly disinfected between each transfer.
Prior to arrival each yacht will be sprayed with an Electrostatic cleaner and left sealed off for 24 hours
Temperature checks of crew and guests using non-contact thermometers
Sanitizing stations will be available on the dock pre-boarding the vessel
Each yacht will have disinfectant spray, hand wipes, and sanitizing products readily available
On charter
Masks to be worn by crew and guests in all close social situations on and off the boat
Crew will wear masks and gloves when cleaning guests cabins and the vessel
Social distancing and sanitary protocols will be enforced onshore
Crew and guest hands to be washed and sanitized when embarking the vessel having been onshore
Any items or provisions purchased onshore to be disinfected prior to entering the vessel
Guests participating in any off boat excursion such as scuba diving may only do so at Gold Standard Certified establishments, we can make arrangements on your behalf
Periodic non-contact temperature checks of crew and guests
Post charter yacht decommission and recommission processes
All linens will be removed and stored in a restricted storage area
Recreational equipment (snorkel gear, kayaks, paddleboards, fishing gear) will be disinfected immediately upon return to the dock after guests depart then left sealed off for 3 days
All elements will then be cleaned, sanitized, and disinfected again prior to the next boarding
Galley provisions will be cleaned and disinfected on the dock before being unpacked on board
Clean linens will be placed in a storage facility for 3 days before being unpacked and the cabins made up
2. Booking flexibility
We have updated our standard charter contract to offer more flexibility and leniency. In summary:
You may opt to reschedule your charter up to 60 days prior to departure with no rebooking fee. Charter is to be completed within 12 months of the original charter start date based on mutually agreed dates.
If guests wanted to have an extension beyond 12 months of the original start date, you can secure charter funds for up to 24 months for a $1,500 rebook fee (you would need to do this 60 days before the end of the 12 month period)
There are no rebooking fees if you need to change your charter due to 'force majeure' circumstances surrounding COVID-19. Your charter can be rescheduled and completed within 12 months of the original charter start date based on mutually agreed dates.
Please contact us if you would like a copy of our contract in full, we hope this provides assurance to you.
3. Giving something to you – Reunite with friends and family and bring 2 free for all of 2021!
We believe that having something to look forward to, something that brings friends or families back together again is a powerful remedy. We, therefore, wanted to celebrate this eventual coming together by offering 2 FRIENDS OR FAMILY FREE for all of 2021! Book for 2 or more and invite 2 guests to go for free of charge! This offer is valid up to December 15th, 2021.
With a population of just 390,000 people, the second-largest reef in the world, and over 200 islands to explore, we believe that Belize is a perfect place to be socially distant. Sail to remote islands with only your captain and chef on board with all of your needs taken care of, from delicious fresh cuisine, exotic libations, multiple snorkeling experiences, and opportunities to paddleboard, fish, beach comb, and of course, to relax on deck as you sail with the trade winds.
We all look forward to welcoming you back to Belize!
From Cliff, Rachael, Jessica, Patricia & the entire BSV team.